Symmetry@Otterbein recently passed one million visitors since tracking began in July 2006.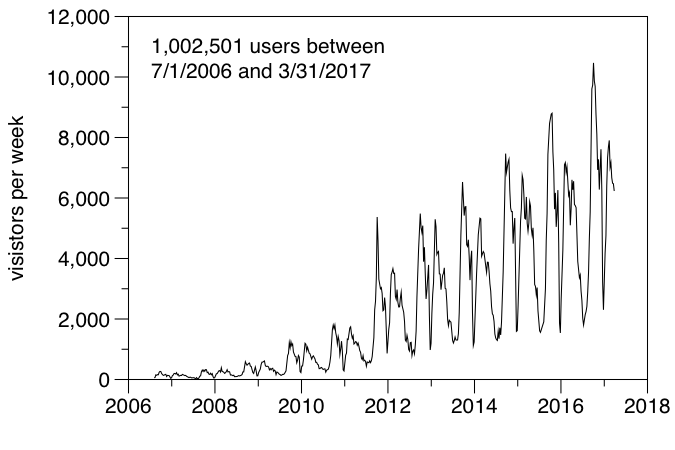 Almost 60% of the users come from outside the United States, with thousands of users from India, Brazil, Spain, South Korea, Taiwan, Thailand, Germany, and many other countries. An increasing fraction of users (approximately 25% in the past year) are using some type of mobile device.
A Bit of History
The first version of the Otterbein symmetry website appeared in 2000 and utilized the Chime plug-in for the Netscape Navigator browser. It included illustrations of symmetry elements and animations of symmetry operations.

In 2006, the website was updated from Chime to Jmol, the new Java-based molecular viewer that brought many more features. And with support from the National Science Foundation (DUE 0536710) from 2006-2008, the website was expanded significantly to include both the Symmetry Gallery and Symmetry Challenge.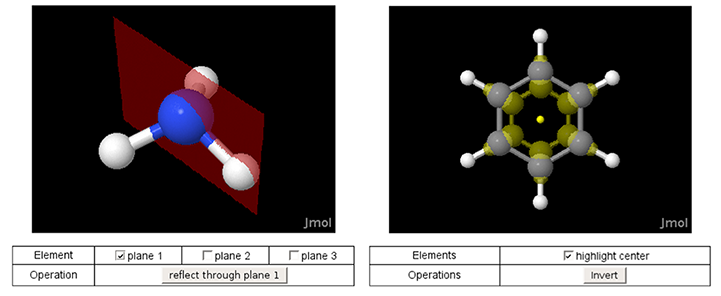 The Future
Development continues, with recent additions including a page for exploring the symmetry of space groups and an improved (but still beta) version of the Symmetry Gallery.
Acknowledgments
Thanks to all who have provided support, encouragement, and suggestions over the years. Some specific individuals that need to be mentioned include:
Steve Koch (SUNY Stony Brook) for discovering my website and encouraging further development
Bob Hanson (St. Olaf) for his amazing work on Jmol (and JSmol)
Tobin Marks (Northwestern) for introducing me to the beauty of symmetry and group theory in his Structural Inorganic Chemistry (D33) course
The Cambridge Structural Database (CSD) for providing an endless source of unique and interesting examples